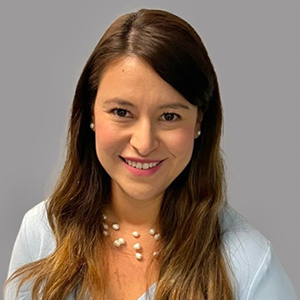 Alexandra Franco, MD, MHA, joined IDC in October 2021. She earned her medical degree at the Universidad Libre in Cali, Colombia.
Dr. Franco completed her Internal Medicine Residency at Mount Sinai Medical Center of Florida, in Miami Beach, where she was also Chief Medical Resident. Afterwards, she moved to New York City for her Infectious Disease Fellowship; she graduated in 2017 from the prestigious Memorial Sloan Kettering Cancer Center, where she focused her training on infections associated with cancer treatment, including bone marrow transplant and novel T cell-mediated therapies.
Dr. Franco is board-certified in Internal Medicine and Infectious Diseases. Before joining IDC, Dr. Franco worked at Clinica Sierra Vista, a Federally Qualified Health Center in Central California, where she served as an Infectious Disease Specialist and was also the Chief Medical Officer.
Additionally, Dr. Franco obtained her Master's in Healthcare Administration from the University of Southern California (USC) in May 2022 and she is currently a Member-at-Large of the International Medical Graduate Governing Council within the American Medical Association (AMA).
She has received several awards during her career, including intern of the year and resident of the year awards, best clinical case presentation at the American College of Physicians. She has received certificates of recognition for her community work in HIV in Bakersfield, CA, from the city mayor and senator Kamala Harris. She is also the author of several publications in Infectious Disease.
Dr. Franco is a member of the American College of Physicians and Infectious Diseases Society of America. In her free time, she enjoys traveling with her family, outdoor activities, and dining out.