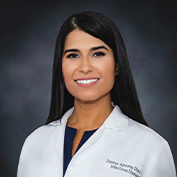 Damyr Aponte-Diaz, MD, from Caguas, Puerto Rico, joined IDC in October 2022. She earned her medical degree at the Universidad Iberoamericana, Dominican Republic.
Dr. Aponte completed her Internal Medicine Residency at San Juan City Hospital in Puerto Rico, where she was also Chief Medical Resident. Afterwards, she completed her Infectious Disease Fellowship in 2020 from the prestigious program of the School of Medicine of the University of Puerto Rico where she continued to display her leadership skills as Chief Fellow in her last year.
Dr. Aponte is board-certified in Internal Medicine and Infectious Diseases. Before joining IDC, Dr. Aponte worked at VA Caribbean Healthcare system, serving veterans in Puerto Rico and the US Virgin Islands.
She has received several awards during her career, including Fellow of the year after her great efforts during the COVID 19 Pandemic and had the opportunity as a resident and fellow to present clinical case and research poster presentations at the American College of Physicians.
Dr. Aponte is currently a member of the Infectious Diseases Society of America, American College of Physicians, Puerto Rico College of Physicians-Surgeons and Infectious Diseases Society of Puerto Rico.
In her free time, she enjoys outdoor activities including running with her rescued Husky Dog, and dining out with her family and friends.