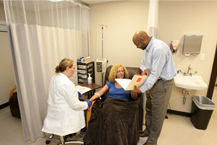 We offer infusion services of intravenous medications and antibiotics to our out-patients. Patients come to the physician office-based Infusion Center as an alternative to receiving intravenous therapy in the hospital or a home-health-care setting. Patients usually return to the infusion center once, twice or three times a week depending on their required treatment. At each visit patients receive intravenous medications and the necessary supplies, and they are monitored by the registered nurse and the clinical pharmacist to ensure the success of the treatment.
Patients come to the physician office-based infusion center as an alternative to receiving intravenous therapies in a home health care setting. The center is conveniently located in the physician's office, and patients return according to individualized treatment plans, usually once or twice a week to have blood work drawn, dressing changes, and to undergo evaluation by the care team and physician. At each visit, patients are provided on-going medications and supplies along with follow-up monitoring to ensure continued treatment success.
Setting
The infusion center contains private, curtained modules that are equipped with a comfortable recliner lounge chair, color TV/VCR, and other patient comfort items. The center provides privacy while allowing the nurse to observe each patient individually.
Advantages of Physician Office Based Care
| Advantages | Physician Office | Home Health |
| --- | --- | --- |
| Patient is taught to administrator medications in their home | | |
| Care team member are specialists in infusion treatment | |  Unknown |
| Care plan overseen directly by physician | |  Indirect |
| Consistent patient care team | |  Variable |
| Immediate medication interaction, evaluation and monitoring | |  Delayed |
| Timely lab results and reviews | |  Unknown |
| Timely dosage and treatment adjustments, as needed | |  Unknown |
| Consistent availability of your medications and supplies from physician office | |  Variable |
| Direct communication between physician and care team | |  Variable |
Infusion therapy involves the administration of medication through a needle or catheter. It is prescribed when a patient's condition is so severe that it cannot be treated effectively by oral medications.
Diseases commonly requiring infusion therapy include infections that are unresponsive to oral antibiotics, cancer and cancer-related pain, dehydration, gastrointestinal diseases or disorders which prevent normal functioning of the gastrointestinal system, and more.
"Specialty infusion therapy" is a term in use when "specialty" infusion medications are administered. However, it also is used to reflect the highly specialized services and level of care that an infusion pharmacy provides to its infusion therapy patients.
Altamonte Office(Main Office)
685 Palm Springs Drive – Suite 2C
Altamonte Springs, FL 32701
For general or billing questions please call (407) 830-5577